Sushil Kumar Pandey
Date of Joining at NITK:
Tuesday, December 17, 2019
Professional Experience:
i) Assistant Professor, Department of ECE, NITK, Surathkal- (since December 2019).
ii) Assistant Professor, Institute of Infrastructure Technology Research and Management, Ahmedabad- (July 2019- December 2019).
iii) Assistant Professor (Temporary), Indian Institute of Information Technology Una, Himachal Pradesh- (July 2018- June 2019).
iv) Postdoctoral Research Associate, University of Minnesota, Minneapolis,USA- (May 2016- May 2018).
v) Postdoctoral Fellow, Indian Institute of Technology Bombay, Mumbai-(April 2015- May 2016).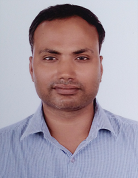 More info::